1982  Musashino Art University, major in Craft and Product Design.

1986  Enrolled at the Pilchuck Glass School (USA).  
    Toured educational institutions and glass studios in the USA.

2006  Held the art exhibition "Picture Scroll-JAPAN" in London 
    by the support of  Embassy of Japan.

2008  Held the art exhibition "Picture Scroll-JAPAN"  in London
    hosted by Embassy of Japan.

2013 Held the art exhibition "Picture Scroll-JAPAN" in New York
   by the support of Consulate-General of Japan in New York.

Exhibited widely across Japan, both in solo and group exhibitions.	
Japan Glass Artcrafts Association Board Member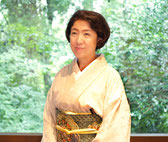 ---
After a period of 1000 years, [MIYABI] is capsuled eternally in glass.
[WABI-simple refinement] and [SABI-quiet simplicity] tends to be introduced to the world through 
cultural events such as Japanese tea ceremony and haiku-poem.
Japanese people tend to seek aesthetic sense of beauty in such things like refined simplicity,


 profound tranquility and matured elegance.
However, cultural ideas of [MIYABI-refined elegance] that started over 1400 years ago, even
 before the ideas of [WABI] and [SABI], has not been introduced to the world much, and again,
  also has a tendency of being forgotten by us Japanese as well.
The [MIYABI-refined elegance] culture has a strong connection with the refined elegant graceful
 lifestyle at the Court and also with the annual events and life habits carried out within Japan.
   This unique culture is written in details in [GENJI MONOGATARI-Tales of Genji], written 
   1010years ago and now known to be the oldest novel in the world.
I decided to look into [GENJI MONOGATARI-Tales of Genji] as the main theme for my modern glass
 art and manifest the Japanese sensitivity towards the change of seasons and affections for
  nature.
Looking into the above points, I focused into [KANA-Japanese calligraphy].
[Kanji-Chinese characters] from China, was altered into Japanese calligraphy [KANA]. 
[KANA] helped develop the character from just a tool of communication to an art-form to admire 
and appreciate.
I felt this [KANA] was the start for our original Japanese culture now understood as [MIYABI].

In Japan, refined elegance is also understood as taking in new elements that are avant-garde,
 cutting-edge and transforming them into original forms of admiration.
I started my creation feeling the urge to capsule the characters in my glass, to float the poems
 and literatures eternally and present our 1000 years old [MIYABI] culture in a visual art-form.
The elegant characters written with a brush, the decorated paper known as [RYOUSHI], and the
 color combinations known as [KASANE] that express seasons and views.
Every single detail seen in this art has its own meanings.
I hope you can enjoy the world of [MIYABI] and travel through time.